"
I think what makes the show so funny is that every single actor and performer adds to it. It's not ALL Carlo's brilliance, it's not ALL my ideas. It's literally everyone adds in their own little bits.
"
—Mark Cope, The Making of The Most Popular Girls in School Part 1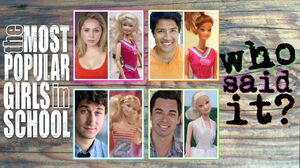 The Cast & Crew are the people who work on the show. According to Lily Vonnegut, most of the people on the show are friends, improv teachers, or actors.
Guest Stars
Edit