"
The Derringer name cannot withstand this much shame.
"
—Episode 60
Matthew Derringer is a student at Overland Park High School and member of the Overland Park Football Team, and is one of the most popular boys in school. He is polite in his speech and has a wide vocabulary. His best friend is Tanner Christiansen. Matthew is currently in a relationship with Trisha Cappelletti.
Personality
Edit
All in all, Matthew is the most gentleman-like of the male cast. Though he refers to Trisha as his "mouth-date" in Episode 4 he has not been unkind to her. He often calls the female cast "beautiful" or "lovely" and seems to be genuinely polite.
He has shown a more aggressive side, usually towards Jonathan and in the third grade when he accidentally injured Shay Van Buren with his hacky sack. He was remorseful over the act, and tried to explain himself while Brittnay Matthews assaulted him with her tiny, hammer-like fists.
Appearance
Edit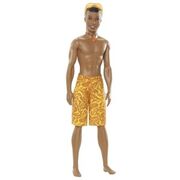 Doll: 2012 Mattel A Mermaid Tale 2 Steven
Where to Buy: Amazon
Young Matthew is seen with an afro and light brown eyes. He is wearing a black shirt with a red collar which had something purple on it at some point, which appears to have been peeled or scratched off. He is also wearing jean capris with a chain on them. This outfit comes with the Little Brother Julian doll.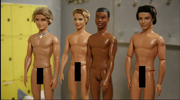 Matthew was born with Penile Agenesis, a birth defect meaning he was born with no penis or testicles, as admitted in Episode 4.
Prom Outfit: Barbie Fashion Clothing for Ken, black & pink plaid tux, black paints, white vest, black shoes comes with flowers and heart-shaped box of chocolates.
Biography
Edit
Relationships
Edit
Episode Appearances
Edit
In the third grade, Matthew lost his Jigglypuff Pokecard to Tanner and retaliated with his Ryan Cabrera promotional hacky-sack, thus injuring Shay.
He does not have any genitals, as found out in Episode 4.
According to Episode 29 , the only person who is allowed to call Matthew "Matt" is his "grand-ma-ma".
It is hinted that Matthew and Blaine are the ones who locked Principal Nubbins in his office, as they both looked at each other uneasily as the Principal said he would find them.