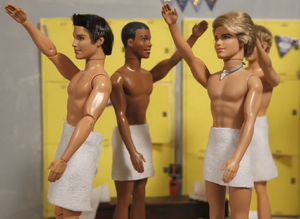 Overland Park Grizzles are the school's football team. They are all good friends, and enjoy talking about how good they are at football. They also enjoy talking about how they are going to State.
The team did a dance routine at prom 2012, but before "the big ending", Mackenzie stops them.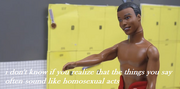 Jonathan Getslinhaumer is a constant nuisance towards the team, and is often hanging around the locker room when they are changing, though he isn't actually on the team. He is often tormenting them with homosexual remarks and suggestions, to which they are bothered by. Nobody on the team actually likes Jonathan, though Blaine is naive and believes that everyone deserves a chance.
Positions
Edit
Quarterback: Tanner Christiansen
Tight End: Blaine
Other: Matthew Derringer, Justin Michaelson, Kevin
Former known members: Blake Jensen, Jonathan Getslinhaumer (Defense), Deandra (Defense)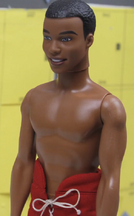 Position: Unknown
Matthew often acts like the leader of the team, whether it's standing up for them 
or speaking for them.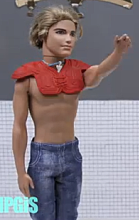 Position: Second String
As he explains to his current girlfriend Saison Margeurite in Episode 2, Blaine is the second string of the team, meaning that he plays when the team rotates players during a game.
Blaine is the most naive on the team, being the least mean towards Jonathan. When Jonathan wants to join the team for their shower, all the football players but Blaine say no, because he believes that everyone deserves a chance.
In Episode 16, Blaine tells his team mates that he will be leaving the team to take care of his son that Saison is pregnant with. His team realizes how uninformed he is on the subject of pregnancy and being father, and attempt to educate him on the subject, to not much avail.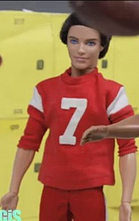 Position: Quarterback
Tanner is the only known homosexual on the team, and is proud of the matter. He acts as a second leader to the team alongside Matthew Derringer, because he stands up and speaks for the team.
Position: Unknown
In Episode 16, Justin repeatedly brings up his issues with his dad while the team attempts to show Blaine the severity of the matter of becoming a father. Matthew, however, tells Justin that the team had already had an extensive discussion on the matter.
Position: Former Quarterback
Blake isn't actually a current member of the Overland Park Football Team, but reminds Cameron Van Buren in Episode 17 that he had been when they were attending high school.