This article is a stub. You can help The Most Popular Girls In School Wiki by expanding it.
"
What disguise is that, a lesbian Inspector Gadget?
"
—Episode 22
Taylor McDevitt is a cheerleader for the Atchison High Cheer Squad. She formerly attended Overland Park High School  before transferring to Atchinson. She is the co-captain of the Atchinson Cheer Squad, but was a cheerleader at Overland before. She is voiced by Carla Hendersen.
Personality
Edit
Despite the other members of the cheer squad's more proper language, Taylor uses terms that are almost as profane as the way Brittnay speaks. Tanya reminds Taylor that speaking like this is not the Atchison High style, and to be more proper. Taylor does not listen to her warnings very well, suggesting that she is new, despite already being co-captain of the Atchison High Cheer Squad.
Appearance
Edit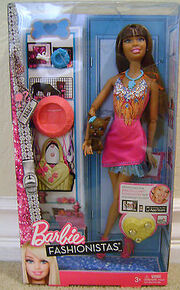 Doll: Mattel Barbie Fashionistas: Nikki & Tier
Where to Buy: Ebay
Relationships
Edit
Taylor has a boyfriend, whom she mentions in Episode 18. Her boyfriend was once Brittnay's boyfriend. Brittnay and Taylor seem to be big enemies, as she hates Brittnay more than Mackenzie and Trisha.
Biography
Edit
Development
Edit
Taylor's first appearance was on creator Mark Cope's twitter in the picture to the left labeled "Hmmmmm".
Prior to MPGiS
Edit
Brittnay mentions in Episode 10 that the last girl the cheer squad trusted was Taylor McDevitt. Apparently at the Overland Park Community Center pool, they caught Brittnay's then boyfriend fingering her in the Lazy River. They banned her from the Overland Park mall because of the incident. 
Taylor first appears alongside Tanya Berkowitz and Trisha 2 in Episode 18. The Overland Park Cheer Squad is visiting Oak Park Mall when the Atchison High Cheer Squad shows up. It is revealed that Taylor was banned from the Oak Park Mall after she was caught being fingered by Brittnay Matthews' boyfriend at the Community Pool. Brittnay clearly does not like Taylor and the feeling is mutual.
Relationships
Edit
Episode Appearances
Edit
After Matthew Derringer and Desmond Irie, Taylor is the third black character to appear on the show.
Taylor despises Brittnay Matthews more than any of the other members of the Overland Park Cheer Squad
Taylor curses despite her school's goal to be "proper", and aims most of her trash talk at Brittnay Matthews.
Taylor was a former cheerleader and student in Overland Park High School.
In Episode 25, it is revealed she has a medical condition involving her vagina, but never stated exactly what the condition is. Because of this, she was given the nickname "Queef Latifah," by Brittnay and possibly the entire state.